98miners
is a user on LSWC. He is a member of the
582nd Club
.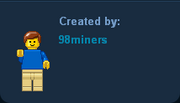 Miners is also a member of a 501st club. He was known for making his "Dan and Dave" stop-motions.
His first creation "Clone Snow Day" was posted on Feb 26, 2012, as part of a contest. After that he started posting his Dan and Dave series weekly. He grew more and more inactive then suddenly disappeared.
Ad blocker interference detected!
Wikia is a free-to-use site that makes money from advertising. We have a modified experience for viewers using ad blockers

Wikia is not accessible if you've made further modifications. Remove the custom ad blocker rule(s) and the page will load as expected.