Alfonsostuperini
, or Alfon, as he would be known, was a creator on LSWC. He is known for his creations because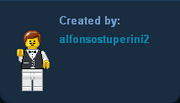 of their details and photo quality.
Alfon started one of the first rebellions. It was found by EmperorGalvinian and contained before it could spread, however. Alfon deleted his creations that mentioned the rebellion and started anew shortly after.
He quickly befriended the user FrodoLovesBacon since they both joined around the same time.
He also made creations designed to help users progress on Creations, similar to those of Starwarsrocks2012, EmperorGalvinian, and PTGLego.
He recently left but then came back about 2 months later.
Creations Style
Edit
His ceations mostly revolve around the characters. He has also collaborated with Joe-Mommuh for a news series called RNN (Ranger News Now).
Rainbow Squad
Edit
Alfon was the creator of Rainbow Squad a clone squad that many creators joined.
They are...
Homerunbetty
Skywalker4862
Brickman647
Liampika
The Villians Are...
FrodoLovesBacon (or goldbreaker)
TheGriller
The Reoccuring Characters Are:
coolness7002
mlp4977
Legoheadewan
Legoboy3486
Ad blocker interference detected!
Wikia is a free-to-use site that makes money from advertising. We have a modified experience for viewers using ad blockers

Wikia is not accessible if you've made further modifications. Remove the custom ad blocker rule(s) and the page will load as expected.