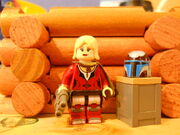 Dixie is a character in
Brenkenobi
's miniseries "The Elite: The First Mission", named after a nickname of
Superseaturtle
.
Dixie was the clone of Turtle, the character. She is the sister/friend of Turtle. She was created by Brenkenobi as a plot twist in his miniseries, "The Elite: The First Mission". When she is introduced, she is a Mandalorian helping Jerek Shay'll breakout the Elite and Turtle. She has a SE-14 blaster pistol, a KiSteer 1284 sniper rifle and a DC-17 commando rifle. She also has several lightsabers. She ends up being an "adopted" aunt to Jerek Rokan Shay'll. She and her template trained Jerek "Renegade" Shay'll to become a New Republic Commando to help the New Republic's Fearsome Fivesome. 
Ad blocker interference detected!
Wikia is a free-to-use site that makes money from advertising. We have a modified experience for viewers using ad blockers

Wikia is not accessible if you've made further modifications. Remove the custom ad blocker rule(s) and the page will load as expected.