Gtyhbqop is a user on the LSW Creations Gallery. Some of his closest friends are
Bgirlabby
,
Bluepeso
and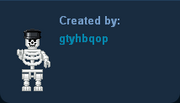 Awesomenoa
. He has used many different accounts, including my_name_is_G, ----G----*, and The-Real-G.
*G claimed that Peso-Jumper had hacked his account and been posing as him with the account ----G---- (See Peso Jumper)
Gtybhqop posted his first Creation on August 27, 2011. He is an employee of Waros32's Vermintech company and has posted many LDD creations. He is also the founder of the "I Like Pie 'movement.'"
He has left creations several times, but usually returned after only a few weeks. He is currently gone, though, and this time he is most likely permanently inactive.
Ad blocker interference detected!
Wikia is a free-to-use site that makes money from advertising. We have a modified experience for viewers using ad blockers

Wikia is not accessible if you've made further modifications. Remove the custom ad blocker rule(s) and the page will load as expected.