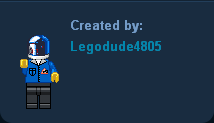 Legodude4805, Dack to his friends, is a user on the LSW creations gallery. He is one of the more versatile users on the gallery, as he is proficient in using different forms of software, such as Lego Digital Designer and Blender.
Dack has been around for some time. He posted his first creation on March 5, 2012, beginning by mainly doing custom ships, characters, and even a very impressive 1-to-1 scale DC-15 blaster. He occasionally posted a humorous creation, but his specialty was customs.
Eventually, he began to make customs of all his friends, and later tributes to them. Finally, he posted a custom Jedi, Dronan Galaxyshear, later to become the main character in his immensely popular miniseries, The Journey.
On July 10, 2012, he announced that he would be continuing The Journey, which was met with much excitement. This miniseries is an ongoing work, and no new part has been posted recently, as of February 24, 2013.
After the summer of 2012, during which he, along with many others, participated in the The Great Water Balloon War on Catgalaxy40's creation, "Water Balloon Fight," which was first posted on August 11, 2012, he went inactive for some time, returning on February 6, 2013.
On October 15, 2012, he revealed a new series named The Unsung Heroes. Unfortunately, the series was suspsended indefinately due to his busy schedule at the time. He has currently shown no desire to continue the series. 
He started a club for users who were either already stop-motion makers, or aspiring to become so, on February 11, 2013, calling it Mind Blown.
He is currently semi-active.
Miniseries
Edit
The Journey. This miniseries features Jedi Knight Dronan Galaxyshear, among others. It is an ongoing work, but most recently Dronan was working with a bounty hunter to find someone or something.
The Unsung Heroes. This miniseries follows clone commando squad Wasp in their fight to survive their unfortunate crash on the jungle planet Felucia. 
As a User
Edit
Dack is friends with Galaxyfox39, Catgalaxy40, ErinKenobi2893, JediRogue, and many others. He is a former Boy Scout with a sense of humor that allows him to laugh at himself quite often.