This is the third
Duplicate Account
of
Misslegouniverse2143
's.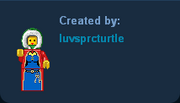 MLU created the account to test a theory she had. It was if she'd get more comments on her first creation as Luvsprcturtle vs. her regular account, MLU. And sure enough, she got 28 comments as Luvsprcturtle vs. MLU that had only 10.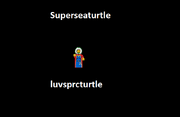 As a User
Edit
MLU became friends with Legodude4805 and Superseaturtle with the account Luvsprcturtle. She posted a second creation called "Guess who i no IRL?" posted on November 30, 2012, telling people she was related to MLU and Brenkenobi. She made them guess until finally she told them she was MLU.
MLU hasn't been on LSWC with the username Luvsprcturtle ever since the situation settled.
Ad blocker interference detected!
Wikia is a free-to-use site that makes money from advertising. We have a modified experience for viewers using ad blockers

Wikia is not accessible if you've made further modifications. Remove the custom ad blocker rule(s) and the page will load as expected.