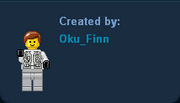 Oku_Finn is a well-respected user on the Lego Star Wars Gallery. He is known for his ships and
stopmotions
.
Oku_Finn has been around since the days of the old gallery. He is one of the few active users who were present during the Golden Age. He commented quite a bit, becoming friends with users like Superseaturtle.
More recently, he has slowed down his posting to about 1 or 2 Creations per month, and comments almost exclusively on his own Creations.
He started a group with himself, Razaron, Brickman674, and Bluepeso, however it lost steam over time.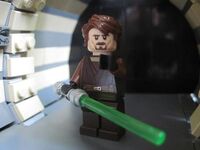 Creations Style
Edit
Oku is known for his ships, which can be compared to the skills of his idol, ditzlego. He is also a good stopmotion animator , and his minifgure scale dioramas are of extremely high quality.
He has recently started a miniseries, called Unforseen Enemies.
Miscellaneous
Edit
Oku has an older sister on the site.
Ad blocker interference detected!
Wikia is a free-to-use site that makes money from advertising. We have a modified experience for viewers using ad blockers

Wikia is not accessible if you've made further modifications. Remove the custom ad blocker rule(s) and the page will load as expected.