Princessleia8888 posted
Her first creation on 
December 9th 2011
Her creations are always interesting ,and 
Eye catching! She is know for "Growing Up Under a Jedi" which is her mini series, she has girls club only
Called "Best Friends Forever Online"(BFFO) , which she and the other members look for more (girls) to join. Princessleia8888 and FancyLovegirl10 , manage the club. Which her nickname (for club members only)is Ellie.
She has many friend to many to name! She is one of the best ppl
On the gallery!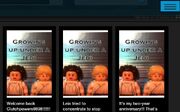 Ad blocker interference detected!
Wikia is a free-to-use site that makes money from advertising. We have a modified experience for viewers using ad blockers

Wikia is not accessible if you've made further modifications. Remove the custom ad blocker rule(s) and the page will load as expected.