Rex_Cody's signature,  ⤵৳♄ℇ ⊂⊙ℳℳⓐ₦Ⓓℇ®⤹ (made by Agenti397 ) 
Rex_Cody297 is a user on LSWC. He shares his account with his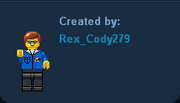 younger brother. He is also a member of
Kingjulian13
's
582nd Club
. He founded a club called RBC, a.k.a Rancor Battalion Club.
His first Creation was posted on March 11, 2012. His 50th creation was posted on December 20, 2012.
He posted a miniseries  called "The Log of 88".
On his creation, 'Announcements', he said, #1 Battle of Ruins is coming soon, #2, Three slots in RBC were left, #3, his miniseries, "The Log of 88", would be discontinued, #4, he said he wanted to start a weapons club like Vermintech, called Republic Weapon Industries, and lastly #5, Order 66 would be coming soon.
After his 50th Creation he slowly grew inactive. So on Feb 10th, 2013, he said he was leaving the gallery.
Ad blocker interference detected!
Wikia is a free-to-use site that makes money from advertising. We have a modified experience for viewers using ad blockers

Wikia is not accessible if you've made further modifications. Remove the custom ad blocker rule(s) and the page will load as expected.