Vador66 is a user on Creations. He is part of
The ICLOLMSW
.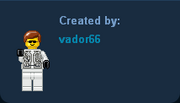 He posted his first creation on October 27th, 2011, making him part of The Golden Age.
Vador, in his prime, was noted for his exceptional building style, comparable to that of Oku Finn or Brickman674. He also made a number of customs, and had a miniseries at one point, which did not last long.
He left the site to move to MOCpages and Flickr, and has remained inactive since then on Creations. He, however; posted a creation on March 23, 2013.
Ad blocker interference detected!
Wikia is a free-to-use site that makes money from advertising. We have a modified experience for viewers using ad blockers

Wikia is not accessible if you've made further modifications. Remove the custom ad blocker rule(s) and the page will load as expected.